On Sunday, fans of missing Chinese actor Fan Bingbing marked her 37th birthday with some sadness. "Fan Bingbing, happy birthday. It is again another year, another autumn. The road ahead is long and the way back is not clear. But it's okay because you are here. I am here. We are all here," one posted online.
China's most famous actress has not been seen in public for more than two months after becoming embroiled in a public scandal over actors underreporting their earnings. Through her studio, Fan, who has been the country's highest paid actress for years, denied any wrongdoing.
Her prolonged disappearance has prompted many questions, chief among them: What happened to Fan Bingbing? The answer is no one knows. But as the mystery of her disappearance deepens, Fan has become a cautionary tale of the perils of working in an industry so connected to and controlled by China's political elite.
Experts say Fan's mysterious absence and the silence around her case is evidence of the opaqueness of a system where business and politics converge, and how quickly entertainment can turn political.
Fan has not been seen in public or made any public statements since 1 July when she visited a children's hospital in Shanghai. An article in the official Securities Daily in August said she had been "placed under control and will accept legal judgement". The story was quickly removed, and any mentions of it were scrubbed from Chinese social media along with Fan's name.
Companies and brands have distanced themselves from her. Her fiancé, another Chinese actor, has erased all photos or mentions of Fan this year from his profile on Weibo. A cameo by Feng Xiaogang, a director Fan works with, was cut from a Chinese film screened in Beijing on Sunday.
Speculation about Fan's fate covers a wide range. Perhaps she is in trouble for tax evasion. Maybe her backers within the party's upper echelons have been purged and can no longer protect her. Or perhaps Fan just offended the wrong person.
Yet her most serious misstep may have been becoming too famous and too influential for the comfort of China's ruling party. "The message is clear: No one is safe," said Stanley Rosen, a professor at the University of Southern California who studies China's film industry.
"The basic point is to intimidate celebrities with large followings so that they are not too independent and serve as an alternative voice on issues of public import," he said.
Fan has been a household name since she was a teenager, rising to stardom in the late 1990s. Today, the actress has more than 60 million followers on Weibo, many of them fans who call themselves bingbang, "popsicles" or "ice country", plays on Fan's name.
For years, she has set beauty ideals, and plastic surgery requests, with her aquiline nose, large eyes, and "melon seed"-shaped oval face. Last year, Fan, who has been in the X-Men and Iron Man film franchises and runs her own studio, was the world's fifth best-paid actress, just behind Jennifer Aniston and ahead of Charlize Theron.
Known for being direct, self-assured and willing to throw shade back at her detractors, she has developed a cult following among those who compare her "queen style" to peers such as Beyonce or Rihanna. She is often referred to as Fan Ye, a term usually reserved for men of seniority. Asked in a 2010 interview for her thoughts on marrying into a wealthy family, she famously quipped: "I've never thought about marrying rich. I myself am rich."
'We will wait for you'
In China, where discussion of politics can be taboo, discussion of entertainment can often be a venue for political and civic views. Since Fan has gone missing, a group of supporters has committed to debunking rumours about her.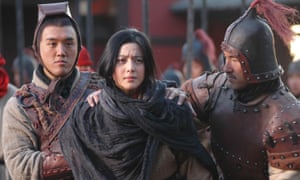 In July, when news circulated that a Thai duty free store had dropped Fan as a brand ambassador, the fan group's checks led to an official statement from the store dispelling the rumours.
"Punishing Fan Bingbing is killing the chicken to warn the monkeys. But her vanishing has made people feel uncomfortable. Why don't [the authorities] follow legal procedure and let people know what is going on?" said Zhang Lifan, a historian based in Beijing.
Over the last two years, China has tightened control over media and entertainment. Authorities have cracked down on apps, reality TV, live streamed shows, and the children's character, Peppa the Pig. A new law on Chinese film implemented last year requires the industry to "promote core socialist values
In June, regulators said they would cap salaries for actors, criticising the entertainment sector for encouraging "money worship" among China's youth. Earlier this month, a state university published a ranking Chinese stars according to their level of social responsibility. Fan ranked last.
"The entire entertainment industry, and its rise and fall are determined by the politics, ideology, and the likes and dislikes of [China's] leaders. This has become more obvious in recent years," said Qiao Mu, an independent political and media analyst based in Washington, DC.
This control does not bode well for the potential of China's film industry, the world's second-largest film market once predicted as likely to outpace Hollywood. "No one has come out to speak for Fan Bingbing. It shows the entertainment industry's position is low. It has no power," said Zhang.
Yet her fans continue to rally around her, a sign that Fan's disappearance has not dented her relevance. On Sunday, a hashtag celebrating her birthday had more than 64 million views and more than 30,000 posts. "Because we are ice country. Because you are Fan Bingbing. We will wait for you."